Illuminated Signage in Huddersfield for Only Orthodontics
Attached is Fully Illuminated Signage for the ever growing buisness which is Only Orthodontics Huddersfield.
After a hard battle with Planning permision we were able to design and manufacture this stunning sign for the orthodontics… the results are amazing and we can't wait to come visit at night once its all lit up.
We also manufactured plenty of internal signage which breaks up the walls & windows brilliantly but also adds privacy which is very much needed in this business.
Please scroll through the images and if you wish to get a quote on any of the attached items or anything else sign or print related then don't hesitate to get in touch on 01484 860 650 or visit our facebook, twitter or instagram for more frequent updates.
JACOB BRIAN Illuminated Signage
Jacob Brian Tailors
For this signage we worked closely with Jacob Brian trying to get the most out of what they were after on theiur new build.
The signage consists of built up aluminium lettering on steel thread with a red halo glow to the rear of the black powder coated lettering, all wires were hidden and drilled seperatley.
This really does look stunnning against the old mill stonework and we can't wait to see it all lit up on a night.
Inflatanation Huddersfield Signage
Inflatanation
Well… what a place this is going to become, we got asked to do the signage for the new franchise of Inflatanation in Huddersfield and what a privilege it was.
We worked closely with them to maintain the brand standard across the current sites in the UK.
We covered the windows either side of the entrance with digital graphics and also produced a large sign for the front of the business which not only gives real presence to those walking past going to the JD gym next door but also to the cars passing on the main road.
We also added a tray sign to the gable end of the building and three totem signs in the huge car park next to the Grovenor Casino. These are huge and there is no question that you'd miss the building or signs for that matter.
Freaks New Building Signage
Freaks of Nature

This company's marketing manager lives close to our main hub and has seen some of the work that we've done in the local area so when we got contacted to their building signage and advertising, we were delighted.
The Sign is made using an aluminium tray sign wrapped in a matt finished digital wrap with their logo offset to the sign in acrylic and finished with a gloss laminate, you really can't miss it and it looks amazing!
We also added frosted vinyl to the windows and also did a feature wall in the entrance using our own custom self-adhesive textured wall paper with matt vinyl quote over the top so this could be changed or added to which also looks really good and hits you as soon as you walk into the building.
Aluminum lit up sign for R&D Sheetmetal in Clayton West Huddersfield
We recently fitted this for R & D Sheetmetal in Clayton West, Huddersfield. It's an aluminum tray that's got built up stainless steel letters with a halo glow to the rear of the letters.
This sign is located on the entrance to their new building and allows the customer to get a great first impression of the business upon arrival, we are currently working very closely with the company and branding throughout their new building.
More images and updates on the project will be available in the coming months…. THIS ONE IS NOT TO BE MISSED!
New shape PEUGEOT EXPERT van finished for Ross Selley Building Contractors – Vehicle Graphics in Huddersfield
New shape PEUGEOT EXPERT van finished for Ross Selley Building Contractors in their new branding! please see attached BEFORE & AFTER photos….. no filter!!
@metamarkuk #huddersfield #builder#graphics #design #fresh #wrap#wrapping #branding #brand #vinyl #signs
#signmaking #new #peugeot#red #done #morning #media #photo#work 
Only Orthodontics LUXURY NEW Opening Times Sign
Here we have a customer that wanted to come out of the dark ages with their old wooden sign that had served them well in the years and mix things up with this stainless steel look tray sign, with interchangeable acrylic pieces for changes to the practitioners.
The sign is modern, creative, creates depth, is clear and is classy. The offset locators separating the practitioners is our favourite thing on the sign which were laser cut taking away the need to be flame polished.
We managed to keep within the brand standards and the evidence pays off how effective and clear the end product was, It was even better to receive the follow up email with the customer describing how pleased they were with it and all the feedback that had been received over it, even though they'd only had it up for a matter of hours.
Just goes to show you may already have a sign/signs, but just renewing them and bringing them up to date, really does make a difference.
for more updates please visit out Facebook, Twitter or Instagram Accounts.
Acrylic Signs in Elland, Huddersfield.
What a start to 2019, trying to find time for a post! Here's a job we did for a company called Hilton Process Solutions in Elland, Huddersfield. 
Here we have a job that's been laser cut and had offset locators fitted to the rear very carefully throughout to ensue they don't miss the corrugated shell of the building. Customer over the moon with their new signage and look to their buildings creating a perfect image for them and their brand.
Elliott's Vehicle Graphics Branding.
Today we have completed the Vehicle Graphics on a Fiat Ducato Box van. Please see the attached gallery and take a look at the ripped design effect down the side of the vehicle. Here is a video on completion leaving the vehicle bay here at Bobby Dazzler Signs in Skelmanthorpe, Huddersfield.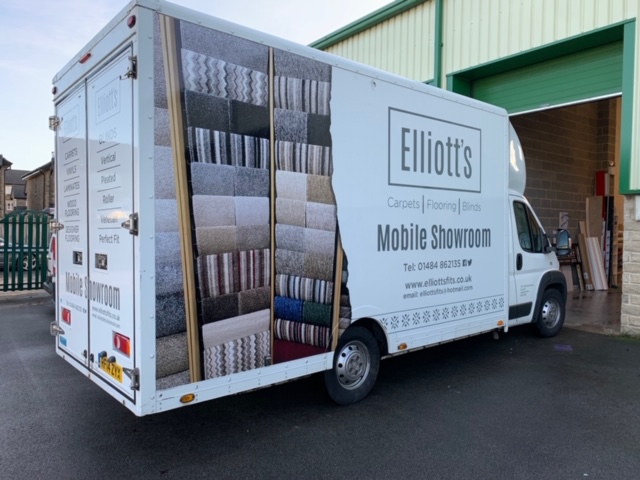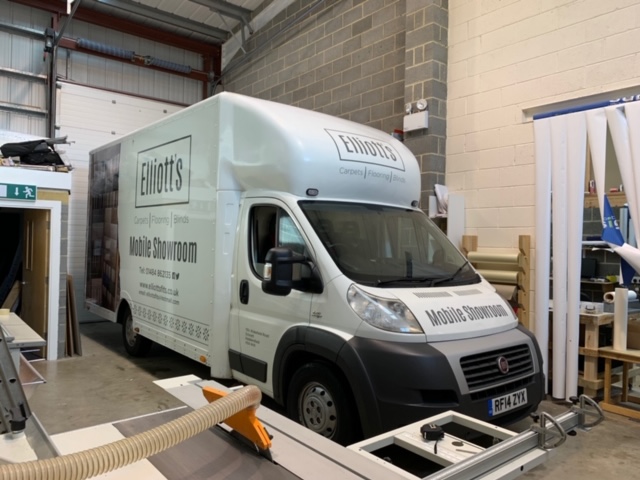 The Droppingwell Refurbishment
A WIDE RANGE of images for you to browse through of how we contributed to The Droppingwell refurbishment including door wraps, vinyl livery, graphics, a wall paper featured wall, chalkboard art and signwriting.
Please see our Facebook and our Twitter page for more regular updates.
All work in photos is designed, manufactured and fitted by the Bobby Dazzler Signs team to ensure we have full trust in all of our products.
Please click HERE for a direct link to more photos and other work we carry out on a daily basis for a variety of different customers.
Some of these include:
A-BOARDS, BANNERS, FLAGS, BUSINESS CARDS, MENUS, STATIONARY, T-SHIRTS, FASCIA SIGNAGE, VEHICLE LIVERY, SIGNWRITING, CHALKBOARD ART, DESIGN, WINDOW GRAPHICS, DIGITAL PRINTING, MAGNETICS
& many other types of point of sale that we try to accomodate to the best of our ability.